🔦 AcreTrader - building Shopify for farmland 🌾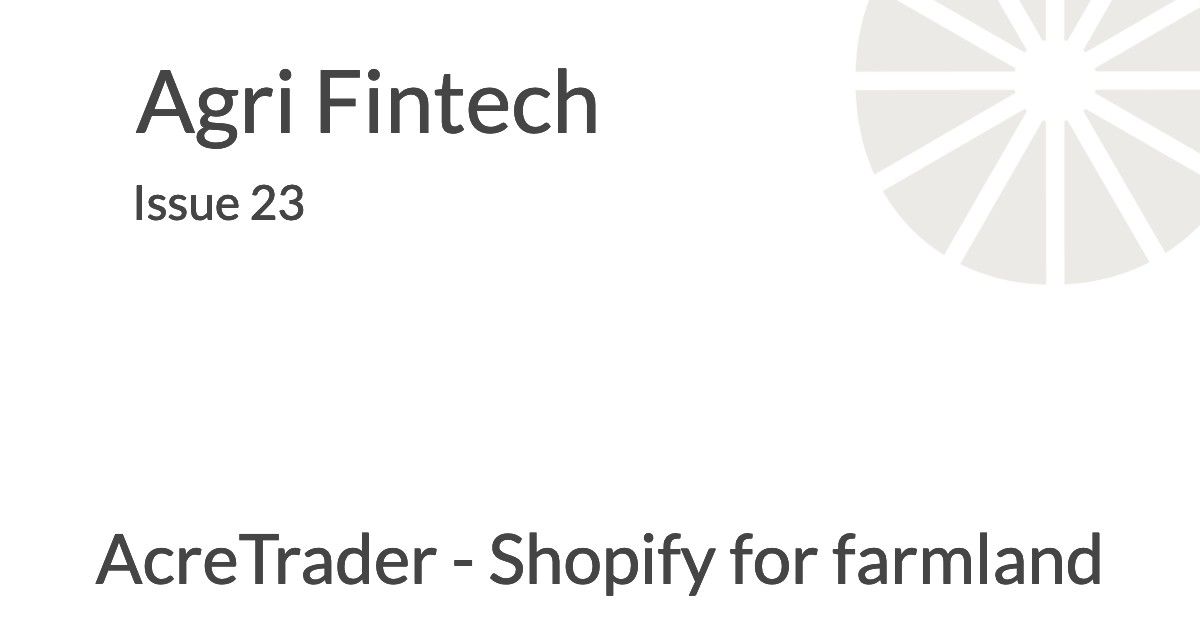 Welcome back to the Agri Fintech Newsletter and a warm welcome to the 43 new subscribers since my last issue.
Some programming notes
1️⃣ 👋 Have you completed the reader survey? 1-2 minutes of your time can really help move the ecosystem along. I've already detected a few trends but would love more signal. 🎯 🙏
2️⃣ I have changed the email address that the Newsletter comes from for subscribers.
📩 Please save this email 📧
In this Issue
🧐 Thoughts on 'AcreTrader - building Shopify for farmland'
🗞 Relevant News [Traive, AgriWebb, Walden Mutual, Tractor Zoom, DeHaat].
Building the Shopify for farmland
Why is it a good time to build in the farmland investment sector? 🥁 Because it is a huge field! 😬
Last week, I had the pleasure of participating in the Land Investment Summit hosted by AcreTrader in Fayetteville, Arkansas. This was a fantastic opportunity to sit down with many AcreTrader investors and also the Team itself to find out more about their mission.
Day 2 of the event was focused on the future of AcreTrader itself after a sector wide briefing on Day 1 covering a range of topics from water, value chains and forestry to yours truly discussing the role of fintech in Agritech ecosystems.
If you don't know AcreTrader, they are a farmland investment platform operating across the United States. They currently have $350m in Assets Under Management and are, on average, funding 2 deals per week, typically funding within 4-5 hours.
[💚 I loved that stat in particular as their first transaction took them 9 months to facilitate].
AcreTrader are in the middle of an operational shift to create the 'Shopify for farmland investment' - a destination to make all land transactions "common, transparent and easy" according to their management team.
They aim to do this by building out their own ecosystem for land investment and I see three major initiatives from them which will define this operational shift for them - and the sector as a whole.
Let's discuss:
✳️ Moving to a Broker Dealer status
✳️ Acres and transparency
✳️ Launching secondary markets
✳️ Moving the category forward
✳️ Moving to a Broker Dealer State
1️⃣ Currently, AcreTrader sell investments as private placements into separate companies, meaning they avoid full SEC regulatory scrutiny, so long as investors are vetted for accredited status i.e. institutional or verified high net worth status.
This doesn't mean they can be gung-ho about investments on their platform and they currently release only 5% of projects presented to them.
However, operating in this format does have limitations in terms of sourcing investments, marketing them and attracting the best partners.
(Having regulated status elevates the credibility of a company and testifies that they aspire to play by the existing financial rules).
2️⃣ The company are now in the process of going through Broker Dealer registration with the SEC, which will change their regulatory status significantly.
This change will allow AcreTrader to have third party sponsors bring deals to the platform and other institutional funds interacting with them.
This will increase liquidity on the platform, the range and volume of deals it can facilitate and a possible move to secondary markets, which I discuss further below.
One drawback, which drew some concern from existing investors, will be that they can no longer make forward looking statements on investments or market opportunities using internal rates of return (IRR), which are central to investor decision making.
Investors will have to deduce this information themselves, but should be more equipped to do so with extra market data. (More below in the Acres and Transparency section)
Overall, this move places AcreTrader as an ecosystem hub with vetted third parties now given the opportunity to build with them.
I would call this Shopify+.
It is ecosystem rails with regulatory protection and it will be perpetuated by the two complimentary initiatives I'd like to highlight - Acres and Secondary Markets.
✳️ Acres and transparency
On my way to Arkansas I caught up with an industry contact who is versed in best-in-class GIS tools for agricultural land.
He knew I was on my way to the event and as soon as we shook hands he brandished an iPhone with Acres app already running. I deduced he had spent a little bit of time browsing on it already, which seemed like a good endorsement. (Yes, he admitted he was checking out his neighbours land 🙄).
--
The Acres offering allows easy access to farmland information. By finding a parcel anywhere in the US, you can find out key information on size, ownership, soil composition and quality, crop history, nearby land for sale, rent and yields or property taxes. And of course any nearby sales. 💲
According to a management presentation, the investment in the Acres platform is at the core of the company's objective to increase transparency in the market, especially linking information on valuation and soil quality.
Currently, any third party sources of valuation such as tax returns or transaction data are stored offline, inaccessible and don't contain a lot of insight.
Similarly, the industry standard NCRIEF Farmland Property Index  is published quarterly and based on submissions from Data Contributors within the industry.
Indexes are always very valuable but can run into conflicts of interest from time to time based on how they are calculated. According to NCRIEF:
The value the Data Contributor submits is the value they believe is the property's fair market value as of that particular reporting period - i.e., the end of each calendar quarter
It is easy to see the need for increased third party information, for no other reason than to speed up any valuation lags and reduce any potential for conflicts.
Disaggregating the valuation further by soil type is very informative and pushes the industry forward.
Will this be the Big Bang for farmland investment?
✳️ Launching secondary markets
The other implication of the Broker Dealer status is the ease of which adjacent financial services can be facilitated around the ecosystem.
The issue of leverage on positions came up several times during the conference in open conversation between the company and  investors.
However, the development of a secondary market for shares may be something we hear more about when the Broker Dealer licence is approved, with the company hoping for a go-ahead at the end of 2022.
Why this is a big deal?
Liquidity makes a market. Any market. Every market. When there are willing buyers and sellers in a market it reduces risk for all participants.
As referred to above, creating this secondary market to increase liquidity in shares issued is possibly the biggest opportunity of the Broker Dealer Status for the company.
It will allow any investors to sell all, or part, of their positions before the underlying land is sold again in the open market.
For context, AcreTrader have completed just 4 full exits with a 5th on the way, so this can restrict investors by not having access to that cash.
It does get complicated initially with market infrastructure (clearing, custodians, brokers, market makers) but the benefit in this particular case would be huge as it would feed the data points for valuation, further making AcreTrader the go-to venue for investing in land.
✳️ Moving the category forward
When I spoke at the Land Investment Summit, I talked about ecosystems in Agritech and how some of the best companies embrace them.
In my view, digitising a value chain disrupts it by not disrupting it. Make sense? Let me explain .. many agricultural value chains don't need to be reinvented, sometimes they just need a digital upgrade, which can shake things up in a positive way.
---
AcreTrader are one of those companies that have helped define a category, push it forward and are now leaning into digital tools for the existing value chain.
I think this is smart in two specific ways.
1️⃣ It opens up land as an asset class to a new generation of investors and gives them a slice of the action; Just as
2️⃣ Traditional ownership is shifting more from operators, who currently own 61% of farmland in the US and who are, on average, approaching 60 years.
There is a real chance this will push an industry forward. Let's wait and see. 👀
📰 News
This was shaping up to be a slow news period but delaying publication until after my trip to Arkansas allowed me to catch up with both Traive and DeHaat below.
⦿ Traive , one of the Latin American agri fintech companies I profiled last month has raised a $10m pre-Series B from BASF Venture Capital.
This is an encouraging round from Fabricio, Aline and the team after raising a $17m Series A one year ago and even more so as they work directly with the Ag Retail sector, which I also profiled in my last issue.
When I said we reached the END of the beginning for Fintech in that particular sector, I meant it 💯 !! Is this the beginning of the next phase?
⦿ Walden Mutual a "sustainable farm and food focused digital bank", become the first Mutual Bank registered in New Hampshire in 50 years.
Walden raised $24m in Special Deposit Shares to secure their regulatory status and begin servicing a $50m loan pipeline.
This is excellent news which I love for several reasons.
💚 Regulatory approach - I have said it before and I will say it again, regulation makes or breaks most fintech models. Look at crypto, all the energy and innovation but going nowhere due to regulatory uncertainty.
💚 Value and Community focus - The business has raised the funds above from 230 community investors. They will use these funds for local businesses in the food value chains. Nice.
💚 Tech first - By building digital first from day one, they have really set down a marker for technology use among the Agricultural Banking community in the U.S.
I genuinely look forward to seeing how this develops and discovering how these 3 facets combine.
⦿ AgriWebb have increased their Series B investment by $6.7m (A$10m), which increases their total Series B to $27m.
💭 AgriWebb have positioned themselves as a sustainable livestock farm management tool and are proactively developing partnerships around their platform.
The funds raised will go to adding more data insight in the platform and launching a partner marketplace before the end of this year, which is certainly one to watch. 👀
Partners announced so far include CIBO Labs and Ruumi, who create finance packages for sustainable transitions.
⦿ TractorZoom announced a $5m Series A funding round, led by Builders VC. If you are not familiar with TZ, then you should be, and this is a great primer on them and their role in agricultural finance.
The raise was announced to continue the run of product innovation they have had in the past 2 years and add further insights to their users.
It is staggering to note that $20bn of equipment sales are captured by their platform already and it feels like they are only getting started, especially with their finance offering for buyers.
Builders are also a notable investor in this transaction as they are developing more conviction around the Agri Fintech sector. 📈
⦿ And finally, Indian giant DeHaat has raised $46m in a Series E. According to this article it is seeking to raise $100m in total to surpass the valuation of Walmart backed NinjaCart.
*** If you operate in the sector and want to share updates, please do as I am more than happy to receive these.
THANK YOU!