Bushel Wallet and an emerging US ecosystem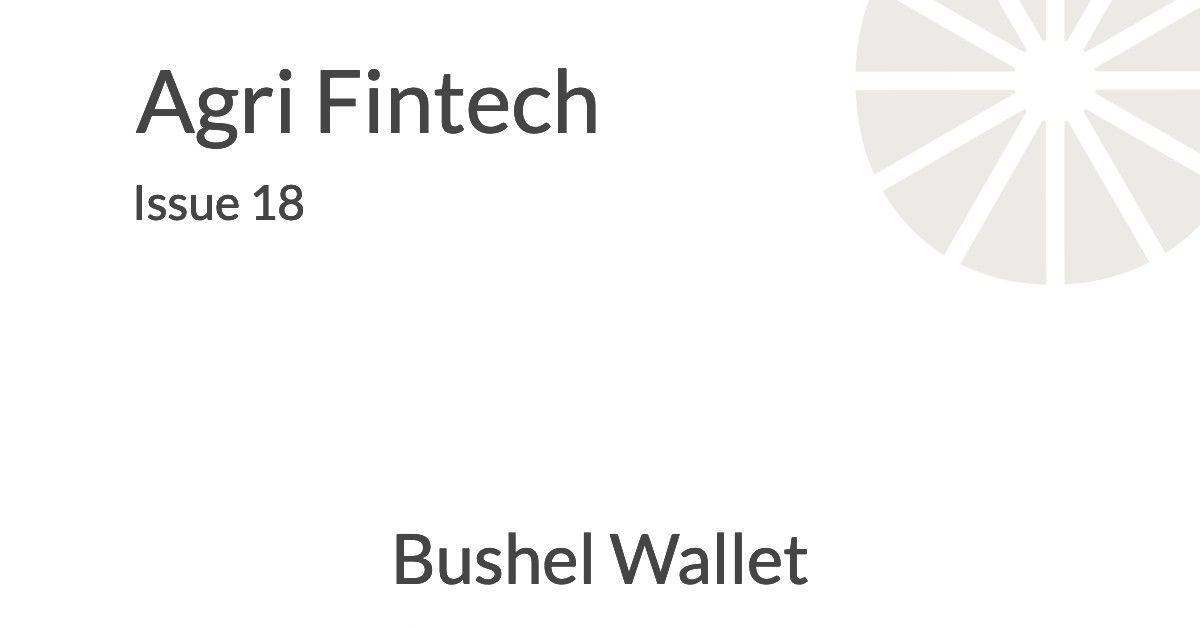 Welcome back to the Agri Fintech Newsletter and a warm welcome to the 60 new subscribers since my last issue 2 weeks ago.
In this Issue
🔬 Agri Fintech in Numbers - please download
🧐 Thoughts [Bushel Wallet and the emerging ecosystem ]
🗞 Relevant News [Oxbury Bank, Mercaris and Stable, Growers Edge, Reshamandi, Verqor, Afrikamart, AFEX Nigeria].
Reach out and say hi 👋 and please do share the content with people in your network by sharing on Twitter or interacting with this post on LinkedIn.
Agri Fintech in Numbers
If you haven't seen this yet, please download from here where I break down VC investment into Agri Fintech companies in recent years. And please do share in your network!
Also keep an eye out 👀
I will shortly be posting details for a webinar discussing the Agri Fintech ecosystem in Latin America with participation from Traive, SP Ventures, Agree.ag and Campo Capital.
This ecosystem development is even more relevant given the Bushel news and what I consider the emergence of the US ecosystem. ⤵️
Bushel Wallet and an emerging US ecosystem
I was very fortunate to join the Bushel team in Fargo when they made the exciting announcement about the launch of their Digital Payment Network for US Agriculture.
This is comprised of three key things:
1️⃣ Bushel Payments for their core grain elevator clients to make payments to growers;
2️⃣ Bushel Wallet which is available from app stores for growers to send and receive payments; and
3️⃣ Bushel Wallet Link, an API version that allows any agribusiness to connect to the Bushel payments network.
It has been fascinating to track this progress behind the scenes ever since they raised their Series C in early 2021, announcing a move towards a fintech offering and to see this convert to a live on-air demo of "Farmer Tony" topping up fuel of his truck using the Wallet.
Disclaimer: This is not a sponsored post but I might say some nice things
In this Issue, I will discuss:
✅ Payments for innovation
✅ Value added services
✅ Further thoughts post conference
Payments for innovation
The opportunity to fix the financial system is still vast. During my talk in Fargo I highlighted the fact that the financial system is less efficient now than it was during the JP Morgan era of rail road and steel works investment.
Financial intermediation costs have gone up over time as it gets harder to match capital with projects and one of the benefits of technology is the ability to reduce this.
Produce Pay have already set some precedence in US agriculture to reduce this inefficiency and start allocating capital where it is needed. They offer a marketplace, payments and financial products for fresh produce growers in the US along with Mexico, Chile, Peru, Colombia and Guatemala. That is getting funds where needed in global value chains.
Produce Pay was launched in September 2015 and has since facilitated $3bn in loans for pre-season financing and quick pay financing.
The $3bn in financing by ProducePay is equivalent to the funds disbursed by Shopify Capital, the global e-commerce platform since its' inception in 2016. This speaks to both the necessity of providing financial services in agri enterprise technology and the sheer opportunity.
But the Produce Pay playbook is definitely one relevant to Bushel: Digitise Trade (inventory, invoices etc) → Payments → Financing
The opportunity
This is significant as Agriculture in the US still uses paper checks to settle 90% of payments in a $200bn per year industry. The Bushel network alone currently manages the digital records of over $53bn of those settlements. Adding payments to speed up settlement is a logical next step.
There is also a second opportunity to collect payments quicker from farmers and quite a lot of the companies I spoke to in Fargo were just as excited about this too.
Having this digital payment infrastructure for the grains ecosystem introduces opportunities for value added services to be built around the payment rails.
Value added services
In his all encompassing Fintech newsletter, Simon Taylor, provides a breakdown of 5 easy ways to create value in payments.
Simon advises payments that show up(!), show up quickly, with reduced failures and less admin for users hit a sweet spot. These sound very straightforward and yet ..
He also refers to 'payment orchestration' which I think is directly relevant to Bushel as their payment network is part of their wider ecosystem and not an isolated product. Inventory, invoicing, valuation, hedging, marketing tools for growers and storage operators now complemented with payment functionality. 🎯
Simon also alludes to the opportunity for data enabled financing with this approach. In Bushel's case, I just think this is a matter of when not if.
When?
For any participants who are happy for their data to be shared with financial providers, this will unlock better risk management and hence better pricing and I can easily see this growing over time.
One key ecosystem component that does need to be resolved is the participation of other banks to provide clear and easy communication around existing lien and loan obligations.
I am told "Bushel are working on it ". 🫡
What?
Bushel has integration in its DNA so I expect multiple opportunities for companies to provide payments and finance around the adjacent retail and transport ecosystems but also up and down the already huge grain value chain for input finance, inventory finance or trade finance products.
There is also the prospect for increased carbon and sustainability financing, with Nori, for example, also currently exploring opportunities with Bushel.
But success rests on payments which Simon sums up nicely!
Get the payment, and you get the data.
Get the data, and you get to add value.
Add the most value and capture the most value.
Capture the most value, and you win.
Thoughts post conference
▶️ From the many conversations I had and of those that took place on open panels, it was evident that Bushel are seen as the company to solve digital challenges for their clients.
(That type of insight is hard to glean without those in person events)
▶️ Putting the lien challenge to one side, the Bushel payments proposition is a network and that means managing the tightrope between both sides.
Bushel still need companies to make those payments and the other side to accept them.
Developing the network will be the number 1 job for Bushel now that it has been fully launched.
▶️ From that network, the ecosystem seems poised to develop.
Bushel are already the digital ecosystem orchestrator in North American grains and will soon become its' payment orchestrator.
Will having a plan to work with them soon be a precondition for success?
It will be fascinating to watch this evolve as other ecosystem roles start to develop - hint Latin America already has some interesting broader ecosystem developments, which is why it is a topic I will cover in depth soon.
📰 News
The News section is on fire 🔥 in this Issue and it has already given me a content roadmap to follow up with. Let's get started ⤵️
⦿ Oxbury Bank extend their funding runway, raising £20m as they reach an impressive £500m of loans disbursed milestone.
I reached out Oxbury and they clarified this round was forerunner to their next round later this year and funds would be used mainly to service growth but some platform investment.
How have they managed to reach the £500m mark so quick?
Our success is down to customer-service (we have real and knowledgeable relationship managers) and the rest of the bank's ability to support that team through excellent technology and data driven approaches to e.g. operations and risk management.
It is really hard not to be impressed by this so far 👏.
⦿ Mercaris and Stable confirm the first OTC organic soya product.
There is an interesting overlap between these two companies and it is great to see their product roadmap develop after first announcing a partnership earlier this year.
The opportunity in managing untraded risk is huge and again, is a topic I will dive into shortly.
⦿ Growers Edge hire to build out their digital farmland mortgage platform.
Interesting because the financing landscape for US farmland is undergoing a lot of innovation at present. This is an emerging ecosystem in itself and one to watch 👀.
⦿ Verqor, a Mexican agri fintech, gets a $2.5m boost with an investment from the Brazil based SP Ventures.
This is interesting as it is one of only a few investments outside Brazil for the SP team and Verqor has been an Agri fintech pioneer in Mexico so this makes a lot of sense.
I look forward to seeing this develop.
⦿ Reshamandi, Indian based platform catering to the silk industry, has raised a further $15m for their Series A to extend this to $45m according to Crunchbase.
⦿ West Africa based Afrikamart has secured $850k seed round to develop its platform
⦿ And also from West Africa, AFEX announced their expansion to Kenya and have committed funds for input finance in the East African market.
*** If you operate in the sector and want to share updates, please do as I am more than happy to receive these.
THANK YOU!
Reach out and say hi 👋 and please do share the content with people in your network by sharing on Twitter or giving the post a Like on LinkedIn here