🎰 We're betting on people
Finance stormed the agenda at World Agritech in London this year. I discuss some of my key takeaways from the Fintech focused panel, when I was reminded that we are betting on people.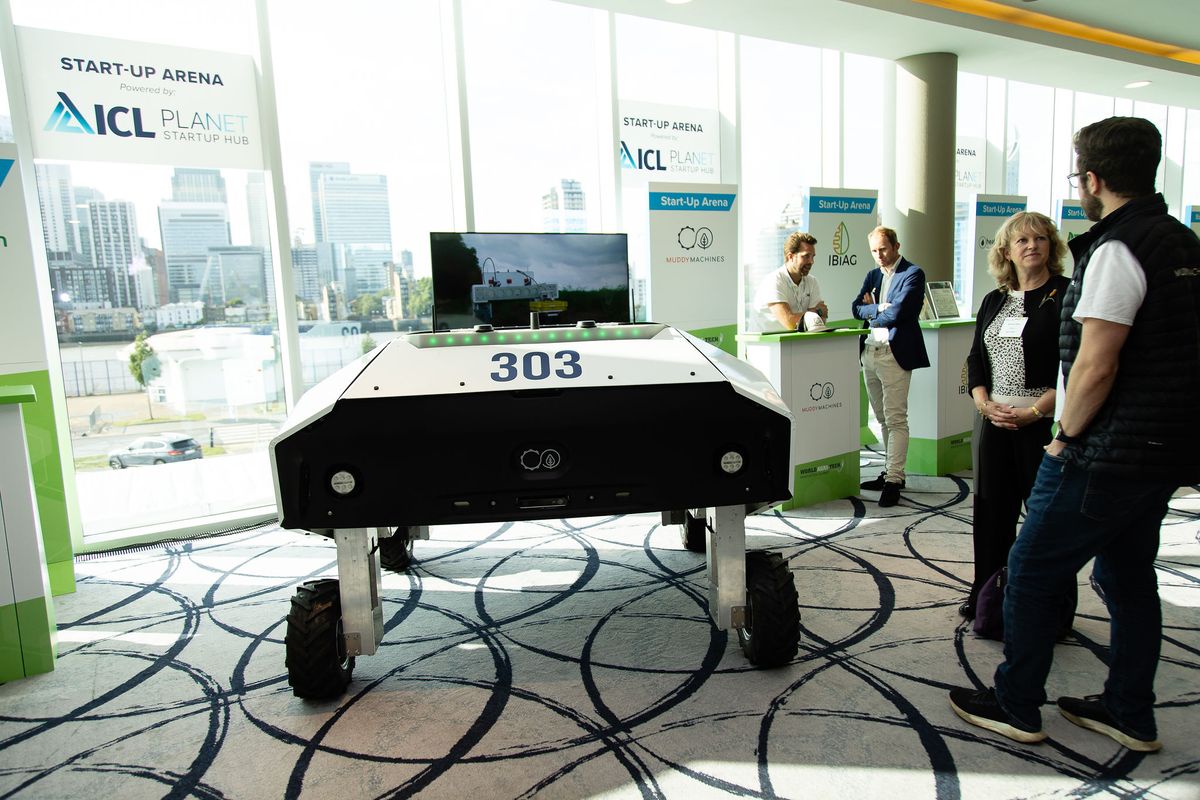 Welcome back to the Agrifintech newsletter!
💡
This newsletter joins dots from Agritech and Fintech and documents the companies building in this space. If you like this content, please subscribe and share with your network. 😀
🎰 Betting on People
Finance stormed the agenda at World Agritech in London this year with several panels and breakouts focusing on this topic. Below, I discuss some of my key takeaways from the Fintech focused panel, when I was reminded that we are betting on people.
🔥 There were several hot funding announcements in the past 2 weeks so I've had a bit of catching up to do. Luckily, you can do it all below in the News section featuring Nagro, Indigo Ag, Ceres Imaging, Ergos, Complete Farmer, Vegrow. 👇
➔ Other content you should indulge in from the Financial Times/ BCG, the ICBA (Independent Community Bankers of America) and Choice Bank (North Dakota).
Betting on people
What do you think of when you consider Fintech engagement? A shiny app, an update, an alert?
When it comes to fintech for agriculture we think of a farmer doing this, but that's not massively exciting is it? So we explored this a little in our session and there were some key takeaways.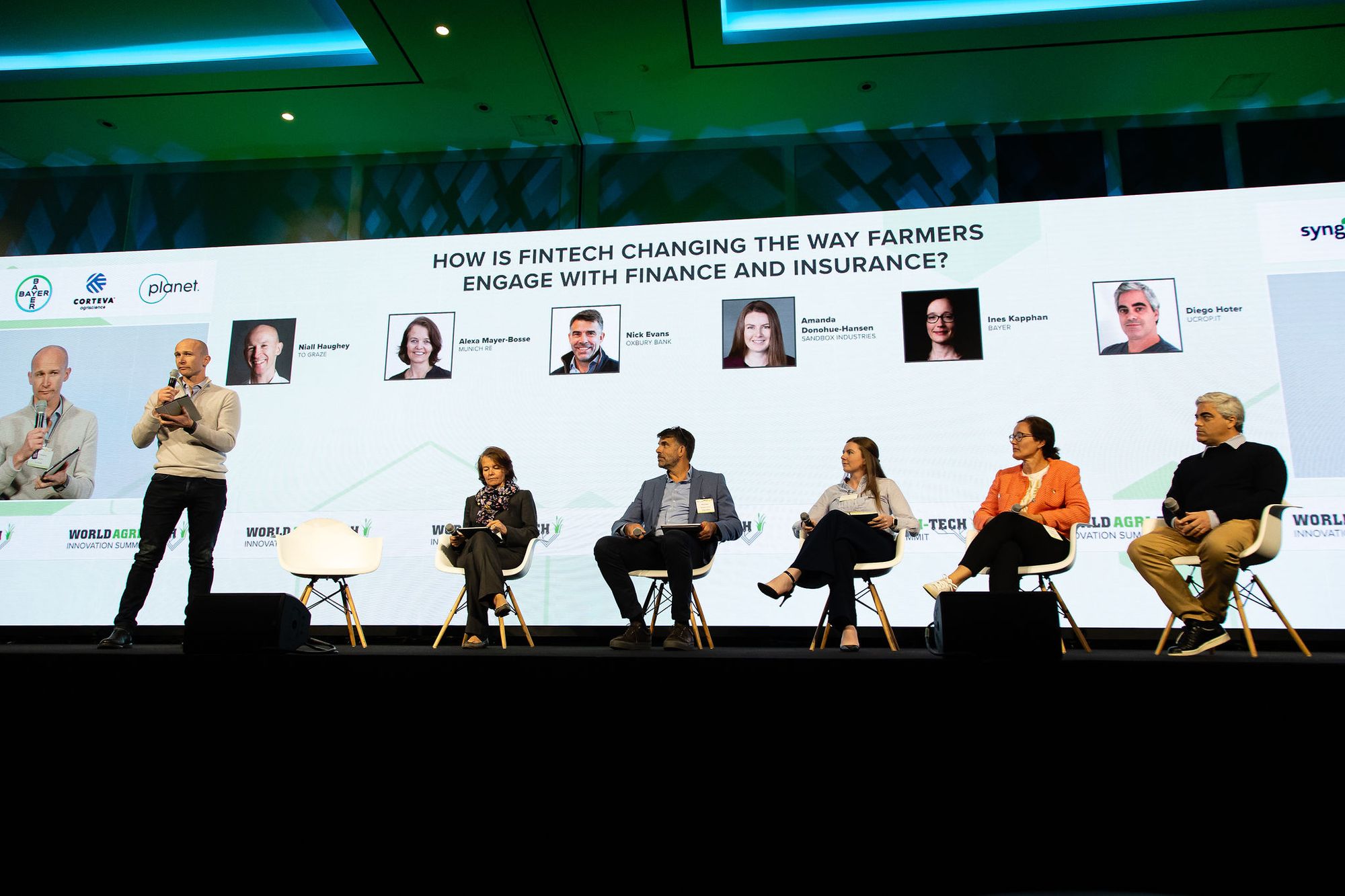 ❶ Betting on people
We started the session by understanding some of the key changes in financial services recently.
Nick from Oxbury Bank reminded us that many of the incumbent banks are stuck on legacy technology and more nimble players from the Fintech world have picked off the more profitable bits way from the incumbents.
Examples include foreign exchange, payments and consumer banking, but can now also include agricultural banking, according to Nick.
At the same time, there has also been a decisive retreat from personalisation and specialisation by major banking providers.
Combining both of these leads to a major proposition, not just for Oxbury, but for any vertical focused fintech - technology works behind the scenes to allow the people managing those personal relationships to focus exclusively on them.
This is a key departure from consumer fintech which engages the mass market via technology and leads to increasingly bespoke service from financial institutions, focused on personal relationships.
People are back!
❷ "Condensing risk from data"
Data talking the same language is where the engagement magic happens.
We heard about "Connected value chains", "Cloud connected acres" and "Crop Stories" from Ucrop.  
Having this data available for use is unsurprisingly seen as a competitive advantage in the market with several panellists referring to this.
⦿ However, it depends on what you do with it and for Munich Re it was "condensing risk out of this data" which really mattered and allowed them to price appropriately in the market.
⦿ Governance around data was also seen as key, especially when considering the risk of greenwashing for climate reporting.
Afterall, a supermarket can't really greenwash its way through having no food on the shelves, but a financial institution definitely could greenwash a product launch or climate reporting. I have this vision of bank marketing teams sitting down each quarter to do climate regulatory reporting. 😂
Data should be attributable to "whom, what, where and when" Diego from Ucrop repeated on several occasions.
💭 In the past 18 months, it feels like we have moved beyond the data interoperability challenges in food and agriculture sector, to the application development stage - what do you think?
All I know, is that I if I were building an application now, I would probably start by speaking to some of the data aggregators already in the market.
❸ The opportunities and challenges
⦿ There is still a lot of opportunity in the climate space according to Amanda Donohue-Hansen from Sandbox Industries. Warranty products were one example cited, guaranteeing performance of new inputs or particular transition techniques.
⦿ Targeting financial services providers that are specialists in ag finance was seen as another, which is available to tech enabled Ag lenders or fintech companies from outside the sector. (See some additional content below on the Future of Ag lending and how Choice Bank in the U.S. viewed the market.)
Similarly, helping to develop the sector in countries where it is underdeveloped, such as Brazil, is also a key opportunity which is being seized by many in that geography (again - some newsflow below attesting to this as a trend).
And the challenges?
The key one that jumped out in this conversation was around the multitude of niche opportunities, which resonates completely with me.
🎯 To be successful, you have to have focus and go narrow, maybe on a particular value chain, maybe in a region, but this can detract from reaching the 'minimum viable scale' as Donohue-Hansen put it.
This fantastic point was echoed by a question from the audience, which cited the struggles of building financial products that went across borders.
🤔 Minimum viable scale. This is definitely one to think about.... but it really places emphasis on getting the right data infrastructure in place to allow quick experimentation.
News
💵 Nagro has secured $49m to expand its Agrisk platform in Brazil, which seems like a major announcement.
Latam players, especially a cohort of Agrifintech companies in Brazil, are experiencing significant growth and momentum in that market. Whilst the $49m amount appears very high, investment has not relented and numerous major deals have taken place in the past 12 months such as Agrolend ($28m Series B 12 months ago) and marketplace Arado ($12m Series A in April 2023).
💚 Indigo Ag announced a $250m fundraise which is a huge amount. The Indigo Ag 'downround' story has been out there for over a month now and releasing the funding amount seems like a perfect way to seize control of the narrative.
$250m is definitely a major amount and demonstrates significant confidence in the business and its model of carbon farming and financing, albeit from a lower valuation point of $200m as previously reported.
📡 Ceres Imaging disclosed a $25m round from U.S and international investors. The precision ag company has recently launched specific risk solutions for the financial services industry and also expanded into Europe.
🌽 Complete Farmer. Ghanaian project raised a total of $7m in equity and $3.4m in debt to link producers in the West African country to international markets.
🌾 Ergos raise $10m to expand their digitised grain storage business in India. The Ergos product, Grainbank, allows farmers to deposit grain and earn a return on this by selling the pledged grains later in the season and exploiting temporary pricing differences.  
There are 300+ sites across India, from where farmers and farmer groups can access their market links and finance.
🥭 Vegrow, the Indian B2B marketplace, is rumoured to be in discussions with GIC of Singapore for a $40m Series C round. Some excellent investors such as Lightspeed and Better Capital are already invested in the Indian firm.
I don't like veering into the gossip column territory but I thought this was relevant given, what appears to be, an overall thaw in funding markets.
Too soon?
🎯 Other content
😶‍🌫️ Financial Times/ BCG;
The financial uncertainty of regen agriculture is one of the major barriers according to this piece from BCG. This is something I've started to delve deeper into and can confirm, there is limited, if any data, that point to regen ag being a money spinner.
📣 Independent Community Bankers of America consider the Future of Ag Lending in the United States.
📣 Choice Bank also discuss the subject in the same publication and consider the recent changes at the tech savvy bank based in North Dakota, to recapture their foothold in the Ag banking market.
---
And that is everything this week folks - did you enjoy? I'm always here for some feedback.
If you enjoyed this please copy the link above and share on LinkedIn or with your internal network.  🙏