Introducing the Agrifintech 2022 report
Introduction to the Agrifintech investment 2022 report with an overview of $1.5bn raised and 104 deals across the globe.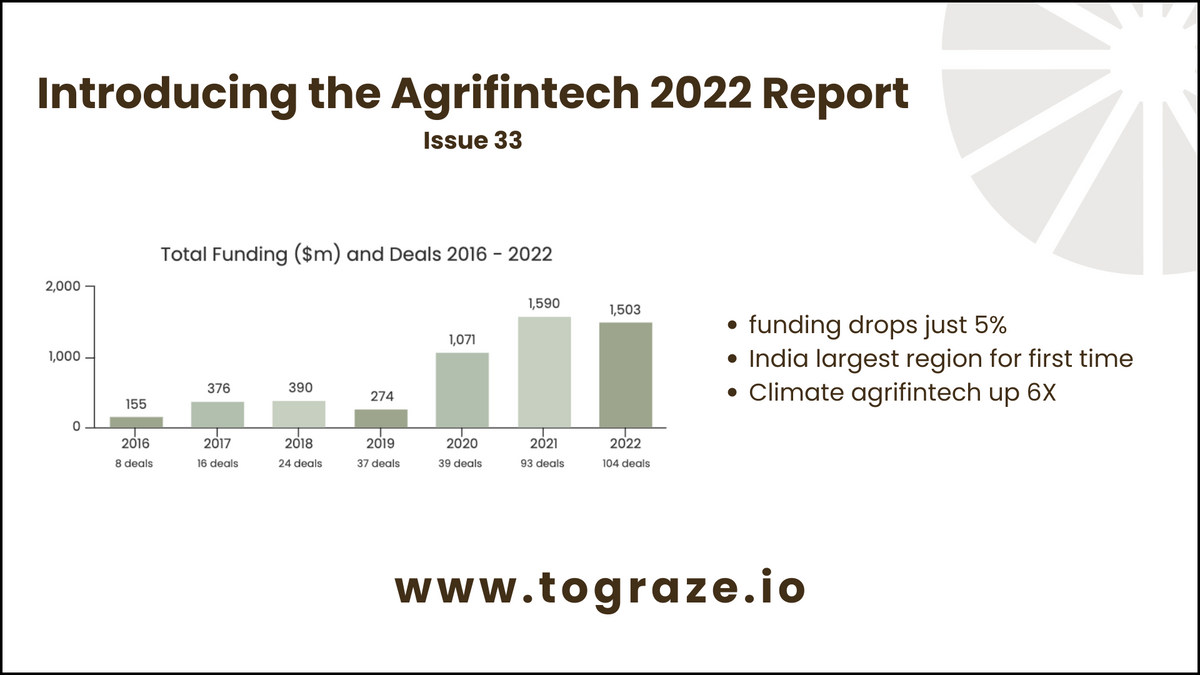 Over the past 12 months the investment landscape has shifted from one of exuberance to one of caution and recalibration.
Well fortunately for both you and I, the development of digital finance tools for the global food and agriculture sector is still in its infancy.
This issue will just be a short one to introduce the Agrifintech investment report for 2022 and walk through some key insights.
Key Insights
1️⃣ Overall funding in the sector was $1.5bn, just 5% shy of the total funds raised in 2021. However, the number of transactions increased by over 10% which demonstrated a continued appetite for the sector, despite a slowdown in private markets overall.
How up or how down would it be? I felt like this was a litmus test for people's conviction...
... but 5% could have swung either way (and frankly I found some data last week that would have nudged it even closer 🫤).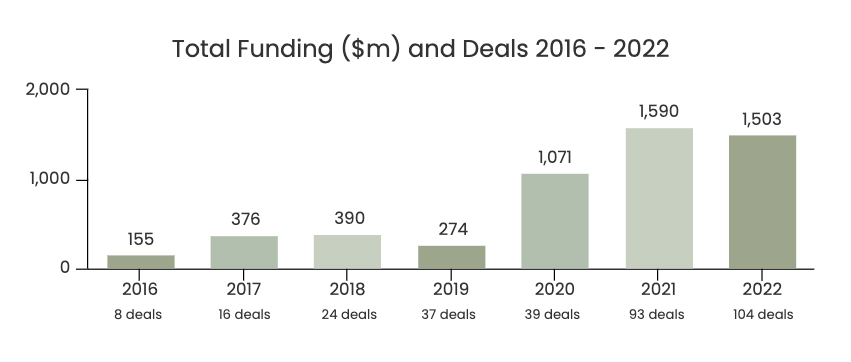 2️⃣ For the first time India surpassed North America as the leading investment destination in USD terms - see chart below. Let's discuss this in two parts; India and North America.
Firstly, this is testament to the Indian ecosystem, which continued to back more companies in 2022. The report elaborates more on this.  
In particular Omnivore as an anchor investor in this market. They have backed 15 companies in the sector and have learned a 'few' things along the way.
I've come to admire their team and unwavering conviction on the sector and I've given some space in the report to Omnivore to talk about how they got involved in the sector and how they see it.
Deal value by region 2020 to 2022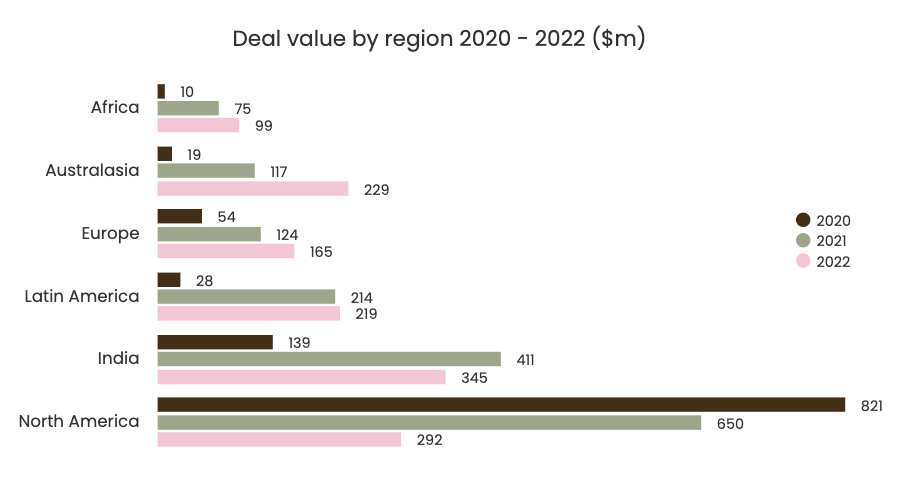 3️⃣ Historical data in North America contains some large one off rounds from Farmers Business Network and Indigo Ag, so it would be easy to view the decline from $650m to $292m as one off adjustments working through the comparatives.  
It is and it isn't.  
In 2022, despite being a gigantic market for agricultural finance, the US investment landscape bucked several trends. In fact, it countered almost all the trends.
I've broken out the numbers in the report by category, region and deal stage to outline some of these trends and how they played out. 👀
4️⃣ In the 2021 figures, I puzzled over $59m of funds being invested into climate aligned products. I felt like an idiot as I told anyone who would listen that climate was the "Why now for Agrifintech?" It was less than 4% of overall funds in 2021. It was more like 'why not?'.  
🚀 This figure leapt in 2022 and accounted for approximately 10% of all climate fintech funds raised based on external data.
This is also interesting to see by region and meet some of the companies building in the space which the Report outlines.
5️⃣ Is it just me or is there an excellent cadre of female led companies?
Similar to the analysis I carried out last year, I couldn't escape that the 'better than average' performance of female entrepreneurs continued in 2022 (i.e. better than the wider venture backed start up average).
Now.... it's not job done. I've also given some space to Campo Capital, an all female founded and led team from Brazil, who recently raised investment from a local institution, give their view on this - better from them than me. 😅
6️⃣ Finally, looking at the sector in context it maintained investment levels much better than other adjacent sectors such as agritech and fintech which fell 47% and 38% respectively. 😓
I also compared average round sizes for example. Below, I've charted the data using the Agfunder report on AgriFoodtech for that particular sector and found some disparities. (FWIW, I'm not overly concerned by the apparent late stage lag below and you'll understand why when you dive in). I've done the same for Fintech and outlined the top 3 deals in each sector and how the overall numbers compare. Have a look.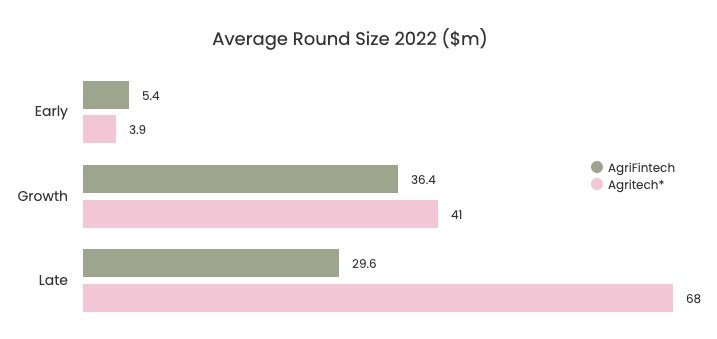 ---
The report is linked below ⬇️ and it is the first premium product I've developed. I've priced this based on a small sample of readers who will benefit the most.
------Oh and don't forget, a $50 discount code has already been applied which can be used in April - 'APRIL23' ------
It will offer significant value to:
✅ Investors who are committed to the sector and want additional context;
✅ Investors who are forming a thesis on the sector and want an independent overview as a starting point;
✅ Corporates (Ag Retail, Technology, Financials) who are considering product ideas 💡 and or partnerships;
✅ NGO's or government agencies researching novel and innovative tools to funds farmers
✅ Builders who want an easy entry point for ideation;
✅ Companies in the sector considering a fundraise.
And finally, if you are based within a large corporate, NGO, VC firm, funded business etc, do consider purchasing additional licences before distributing within your team. I'm happy to discuss this. 😁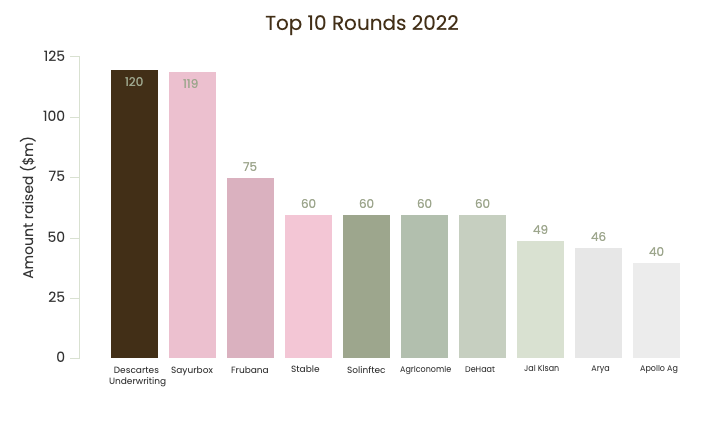 Agrifintech investment report 2022
Overview of venture investment into fintech in the global food and agri sectors
Download here