🔥 July has been hot - FBN, Silo, Mercaris, eFishery and more
A look at newsflow from July 2023, with major updates from Silo, eFishery, Mercaris and expanded partnerships for FBN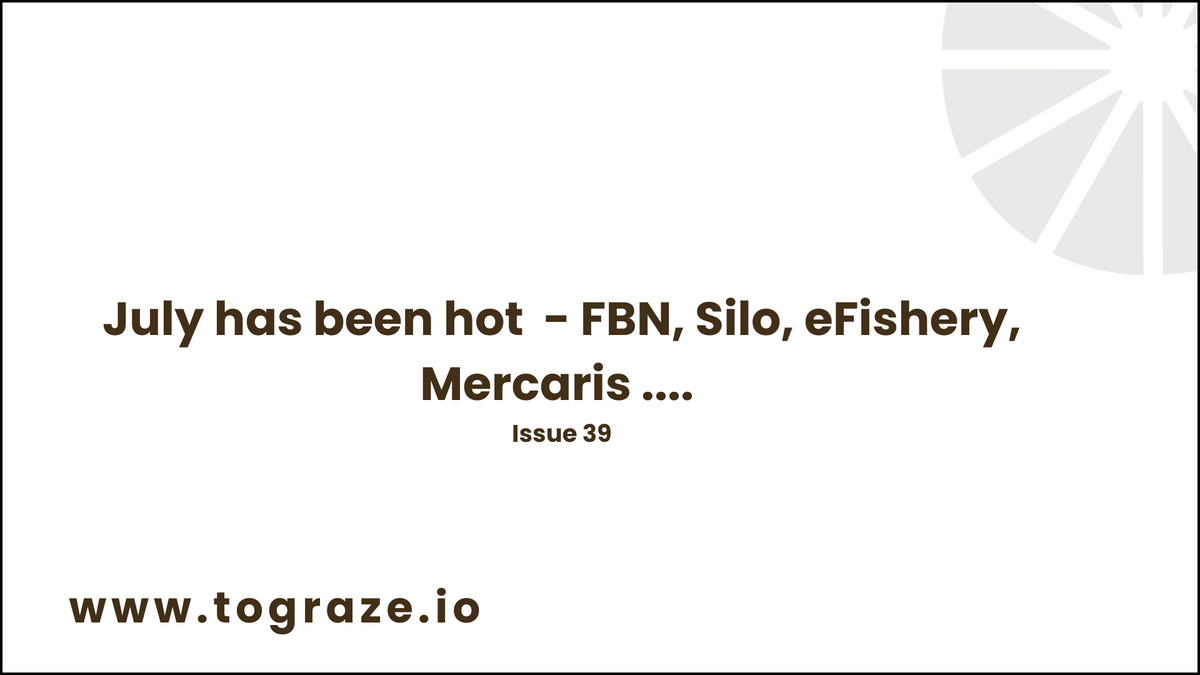 Welcome back to the Agrifintech newsletter!
Through some work and travel commitments, I've been quiet this July, likely to be next month also and back to full action in September.
However, July has been hot 🔥 and I wanted to check in with some recent news flow. Enjoy!
📣 FBN strive towards $500m Regen fund target
📣 Silo bag $32m and onboard new bank partner
📣 Price risk management firm Mercaris get acquired
📣 eFishery becomes unicorn after raising $200m
FBN expand RAF to $50m
Back in January 2022, FBN and the EDF collaborated on the launch of the Regenerative Agriculture Fund (RAF) with an initial $25m fund.
Last week, it was announced, this has been expanded to $50m.
The RAF rewards farmers for sustainable agricultural practice, through an interest rate rebate - one type of 'greenium' that is available.  More specifically, it cites:
Upon completing their loan repayment, implementing soil health practices and operating with an efficient level of N (nitrogen) fertilizer, farmers in the RAF program are rewarded with an incentive equal to a 0.5% reduction in their operating loan interest rate.
When this launched last year, this 0.5% was sizeable, possibly accounting for up to one-fifth of the total finance cost. In 2023, with increased finance costs on farm operating lines - in the 7% region - the rebate impact is reduced, but the attractiveness is still likely to be high, if not higher than in 2022 as growers look to reduce any cash outflow.
The initial press release cites a target of $500m in 3 years, which FBN plan to sell on capital markets to investors. This still seems feasible, given the low number of individual farmers involved and the relative ease of scaling this, although it requires more than doubling the fund in the next two years.
FBN also launched Acrevision recently, a platform to view farmland. This is also an interesting development, given their adjacent farmland financing business and appears almost identical to the Acres platform launched last year by AcreTrader.
Silo bag $32m and onboard new bank partner
Earlier this month, Silo raised a $32m Series C, to further product development and R&D and expand their digital footprint in perishable supply chains.
Silo were an early mover in the digitised agri supply chain space setting up in 2018 and they were equally as quick to realise the value of payment data according to the article above.
Once Silo was in the payment flow, we could pair the data collected from our software with payments products to both underwrite and collect better than any bank
Just 12 months ago, Silo launched a credit fund alongside renowned investment bank Jeffries, at the time reported as $100m in uncommitted financing.
Silo have now seemingly transferred this $100m programme to First Citizens Bank, the acquirer of Silicon Valley Bank. There are many reasons why this may have happened, but bringing a tech experienced SME bank on board seems likely to be a better fit.
In my past two issues, I discussed the topic of Embedded Finance i.e. bringing finance (payments, credit, savings, insurance) to the point of action, which is increasingly integrated with software. Silo epitomise this and I look forward to seeing this scale.
Mercaris acquisition
Mercaris are probably one of my favourite discoveries since starting to write this newsletter. 🤩
Mercaris have pioneered price risk management tools (data, analytics and forecasts) in the growing sector of identity preserved grains such as non-GMO, or organic and also in organic dairy markets. Their offering is focused on U.S. markets, where they have raised just $4m in capital since starting out over 10 years ago.
Kellee, the founder, has an extensive background in commodities and climate, having previously worked at the Chicago Climate Exchange, an early platform for environmental derivatives including carbon. When I say early, I really do mean it, as it ceased trading in 2010 when carbon markets collapsed. (Yes, that has happened before!).
Late in June they announced they are to be acquired by Argus Media, a UK based energy market intelligence service provider. Terms were not disclosed, but this is a fantastic exit for Kellee and the team, in a tough market, where I suspect Argus valued getting a unique asset in a growing market. 👏
eFishery reach 🦄
Unicorn - remember those?
eFishery just reached the coveted $1bn valuation status with their most recent round, a Series D for $200m.
Indonesia has been a market that stood out in the past 12 months, roaring to life with some major rounds in the Agrifintech space (note companies such as AgriAku or Pitik), and over time continuing to blaze ahead.
In 2021, the country received $80m in investment for 3 agrifintech companies, reaching to $182m last year for 5 investments. Well, 2023, looks like it will be a minimum of $200m. 👀
There are several things to note about this round. Yet again, embedded finance played a role in this round, with a purported $32m debt round, led by DBS Singapore, made available to company for its Kabayan credit product. Similarly, the connection of IOT technology to support the value chain is worth keeping an eye on as this is one area I can see being developed further.
---
And that is everything this week folks - did you enjoy? Always here for some feedback.
If you enjoyed this please copy the link and share on LinkedIn or with your internal network.  🙏