Fintech soundbites from World Agritech
Fintech related comments from panelists and companies attending World Agritech in March 2023.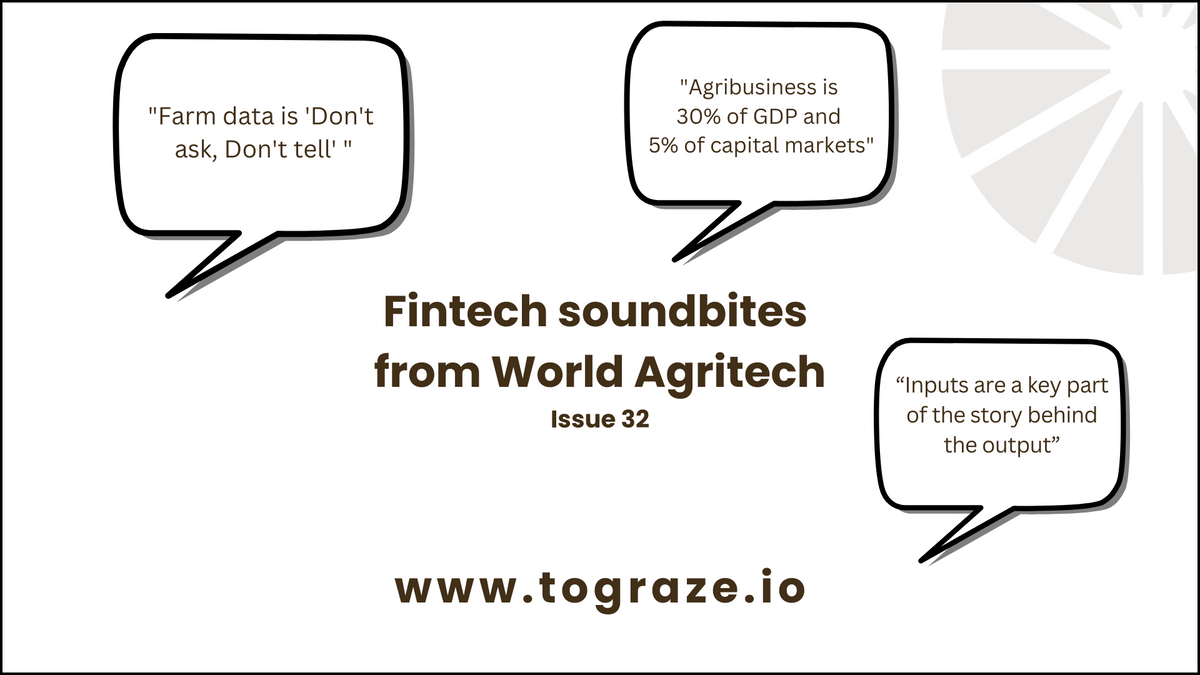 Welcome back to the Agri Fintech Newsletter and a warm welcome to the 14 new subscribers since my last issue.
💡 Are subscriber numbers a good metric? For me, not really. I have almost reached 800 subscribers and am still surprised this many people find the topic interesting, let alone from me. 😅 Thanks for your support.  🙏
👀 The Agri Fintech Investment Report for 2022 will be finalised next week and available shortly afterwards.
📣 The Issue this week is a quick summary of some of the panels I attended and conversations I had with Agrifintech companies at the World Agritech event.
🗞 Relevant News
⦿ France 🇫🇷 to create an Agricultural Investment Fund.
⦿ A follow up from Seana Day of Culterra Capital in Agfunder on her article last week
⦿ Fundraising announcements from Athian and Digital Agricultural Services.
Fintech sound bites from World Agritech
Agricultural finance popped up in several corners of the event with a main stage panel discussing "De-Risking Finance to Transform Agricultural Production" and several side events with companies showcasing their projects.
For example, SP Ventures had a great showcase for their portfolio companies and the four they brought on stage were all agrifintech related and – surprise, surprise – they had a lot to say on the local markets they operate in.
Below I capture some of these and notes from many of the one-on-one conversations I had.
"Traceability begins with inputs so we control those too"
Verqor are a recent addition to the SP Ventures portfolio and one of their few investments outside of Brazil. They are tackling the lack of mechanisation, digitisation and data in Mexican agriculture and using credit as a key tool in this battle.
According to their CEO Hugo Ortega, 9 farmers out of 10 lack credit, and this is one of the levers they have at their disposal.
On traceability, Ortega referred to the importance of this within the supply chains with buyers but also with inputs. He advised that Verqor take control over the inputs as far as possible up the supply chain, not only for commercial reasons, but for traceability and transparency i.e. so they know exactly what they buy.
"The last biggest innovation in Brazilian Agriculture was 60 years ago"
Clicampo operate a B2B marketplace in Brazil for outputs with commercial buyers and also buyers in the hospitality sector.
When speaking, CEO Victor Bernardino, referred to the current physical trade of produce as being the "last biggest innovation in Brazilian Agriculture" which left a lot of room for improvement.
He also advised that one of the most high impact activities they can do is link producers directly to buyers - "The moment we build a more direct supply chain to the consumer, the moment we make it more sustainable". I liked that simplicity a lot.
"The biggest obstacle to the expansion of Agriculture in Brazil is actually credit"
It was great to meet some of the Agrolend team in person and feel the full force of their ambitious vision up close.
Agrolend are an agricultural digital bank operating in Brazil and when I say bank I mean it. They have pursued a full regulatory licence and accept investors typically via 2 year deposits to fund their lending activities which are typically 10 months in duration according to their co-founder Alan Glezer. Like all banks last week, he advised on the panel that this was prudent treasury management giving a nod to the problems that beset Silicon Valley Bank.
Agrolend operate in 200 cities across 14 states with over 1,000 clients and described their "Balance Sheet led model" as one pioneered by Fintech darlings such as Nubank and Mercado Libre in the giant South American market.
"Agribusiness is 30% of GDP but only 5% of capital markets"
Traive are another Agri Fintech company operating in Brazil who previously featured in a previous explainer on Latin American Agri Fintech and always offer informative insights on their market.
In fact, Fabricio offered some other gems such as:
"Funding costs for large farmers are actually C.D. minus" referring to the largest farmers who can actually access funds below the going rate for Certificates of Deposits, or savings in Brazil.
Fabricio also outlined the credit scoring process of some Brazilian banks, where farmers received the same credit scoring process as consumers when applying for funding by having to provide just a social security number.
All in all, Latin American Agri Fintech presented a clear vision, which was eloquently painted by both SP Ventures and the companies mentioned above.
"Farm data is 'Don't ask, Don't tell' "
"Farm data is 'Don't ask, Don't tell'" cited Jim O'Brien from Agrograph.
He continued 'The data is available but it is "Don't ask, Don't tell" if you don't ask for it, farmers won't tell you it is there'.
Agrograph were one of the first companies to find a commercial application for satellite imagery and get it to the hands of banking and insurance clients in North America and increasingly in Europe and Australia.
I also tend to agree with Jim on this as I don't see issues with a lack of farmland data in Agritech. I think there might even be too much 😬 but can see that interoperability of data being an issue.
Thankfully, there are lots of infrastructure builders, with notable news from both Bayer & Microsoft and Leaf & AWS in recent weeks for starters.
"Inputs are becoming a key part of the story behind the output"

This was made by Alain Goubau, Combyne and echoes the sentiment from Verqor above.
Combyne were recently acquired by Bayer to further develop their capacity to maximise grain marketing decisions. In conversation Goubau was eager to explain the increasing importance of having upstream information when interacting with downstream buyers. Buyers are pushing more for information at a granular level, not just quantity and type, but also quality and sustainability attributes that are often influenced by the agronomic practices.
The Bayer 'Climate Fieldview' platform was already a key partner for Combyne but they do expect to continue working with others in this space. However, the Bayer combination gives them the advantage of ready made distribution, a distinct advantage.
In addition, Goubau said the acquisition made a lot of strategic sense as incubating within a major input company - as opposed to a grain trader or processor - allowed the company to avoid any sense of conflict of interest when advising their clients in marketing decisions. "The arm's length relationship also makes the development of digital solutions linking crop production management and crop marketing management much easier and faster" he advised.
"It's all gross margin. You didn't mention tech once!"
This was from Steve Davis of Banneker Partners taking part on an excellent panel on roll ups and consolidation in Agtech.
At one point, David Friedberg from The Production Board was discussing the opportunities he seen in Ag Retail particularly in Brazil he talked about a fragmented market, opportunities to expand products and sell more of existing products (related to the Lavoro opportunity).
As he did so, Steve Davis nodded in agreement and made this important point – "It's all gross margin. You didn't mention tech once" meaning the opportunity was purely commercial and tech would play a minimal role in capturing these opportunities.
This was an important point to make as the panellists considered the wider Agritech venture capital sector at a time when things like gross margin, EBITDA (Earnings Before Interest Tax Depreciation and Amortisation) and cashflow are (back?) in vogue.
Agrifintech Happy Hour
And finally, kudos to BuildersVC and Bankbarn for arranging some Agri Fintech drinks.
I caught up with the Bankbarn team to hear more about their project which is aiming to streamline the lending process using data aggregation and artificial intelligence (AI), starting first in dairy and beef.
They develop AI risk models by gathering a broad set of data beyond financials, including farm performance, macro, and personal attributes, to assess the holistic profile of a borrower to optimize approvals, capacity, and rate package.Data and aggregation was their number one issue.
Interestingly, they also aim to develop a marketplace type solution similar to those developed by TractorZoom and AgVend.
It was also interesting to hear more about CropGuard a specialty crop insurance business that Builders have invested in. Insurance is a topic I haven't covered a lot yet in the newsletter but I am doing some research specifically around this to fill in my knowledge gaps.
News
⦿ France to create a €500m Agriculture Investment Fund announced here in Bloomberg.
Public support for agriculture is really gaining momentum, in particular around climate smart agriculture. Last week, I wrote about FarmerMac and their expected growth in rural renewable energy and how this tied in with the Inflation Reduction Act in the United States.
Similarly, countries worldwide are looking to climate smart agriculture to reduce food costs and also speed up the decarbonisation of agriculture.
⦿ Digital Agricultural Services raise A$3m for Canadian expansion, with Telus as a lead investor.
DAS are an interesting company as they have addressed the issues of Agri financial services providers, rather than those of farmers. The financial value chain in agriculture is not one many companies think about when building financial products but DAS appear to have hit on a sweet spot with agri lenders and also agribusiness.
⦿ Athian, a carbon credit marketplace specifically for livestock receives seed investment from Tyson Ventures.
OK, OK....I have commented previously on the fact there are a lot of carbon marketplaces, but this particular initiative is interesting as it focuses specifically on one vertical where there is a lot of potential and nuance around emissions.
If they can develop and aggregate the supply in one vertical and support development of that ecosystem then I think this is quite smart and I can't wait to see this strategy develop.
⦿ Finally, Seana Day from Culterra Capital is all in on Agri Fintech. Workforce management and Custom farming services are also key themes. This piece is definitely worth a read.
---
That is all for this Issue which I hope you found informative. Let me know what your favourite soundbite was or if you have any others?